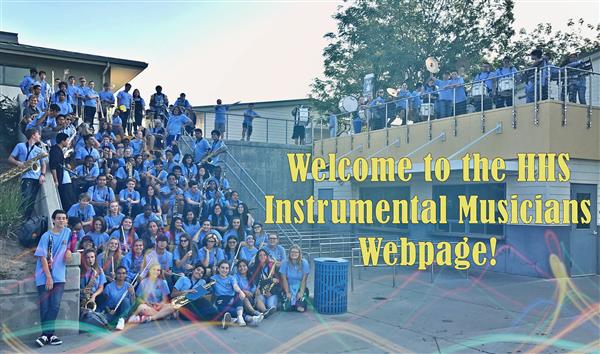 Instrumental Musician Updates

*Click here to access our updated (updated 11.27.17) 2017-2018 Calendar*

*The Practice Log that you are to turn in every two weeks is under the "IMPORTANT DOCUMENTS" tab to the right! You may also click here to download it and print it*

*Our next HPAB General Meeting will be on Monday 2/12/18*

Congratulations to:

Tessie Robinson for being selected Co-President 2017-2018 !

Luis Garcia, Ryan Campbell, and Jyrhed Suriba for being selected to the Contra Costa County Honor Jazz Band !

Destiny Barnes on her tremendous volunteer work at the Village Community Resource Center !
2017-2018 Ensemble Schedule

Period 1: Prep Period

Period 2: Wind Ensemble (Ernest) & Instrumental Studies/Percussion (Juan Carreon)

Period 3: Jazz Band 1 (Ernest)

Period 4: Concert Band (Ernest & Shanker)

Period 5: Symphonic Band (Ernest)

Period 6: Orchestra (Ernest)

Period 7: Jazz Band 2 (Ernest)

Period 8: Jazz Band 3 (Ernest)
Additional Links:

Join our HHS Instrumental Musicians Group on Facebook!https://www.facebook.com/groups/HHS.InstrumentalMusicians/

The HHS Instrumental Musicians Facebook Page is open to current instrumental musicians (Concert Band, Symphonic Band, Wind Ensemble, Percussion, Orchestra, and Jazz Bands) in addition to friends, family, and alumni. *In order to protect our members and their privacy, our Facebook page is set under the "closed group" setting which requires new members to be approved before being added to the group.

Follow us on our Bandstagram (Instagram)!
https://www.instagram.com/hhsbandstagramm/

Our "HHS Bandstagram" features photos of our fellow musicians and reminders about upcoming events!

Subscribe to our Youtube Channel!

https://www.youtube.com/channel/UC8ntqeqC_gyog6_PQ-LEK4g

Our Youtube Channel includes videos of our performances; in order to protect our musicians and their privacy, videos are under private settings that requires a link to see the specific videos.
The Stuart Music Fund subsidizes the cost of private music lessons, music camps and/or honor bands for young instrumental and vocal musicians. It is the goal of the fund to support and encourage musicianship among students attending Liberty Union High School District (LUHSD) schools or local junior high schools feeding into LUHSD. Grants made to students will pay half the cost of private music lessons for six months, or a portion of the cost of music camps or honor bands. For more information, please visit http://www.stuartmusicfund.com/
Dear Parents, Students, and Guests:

Welcome to our HHS Instrumental Music Ensembles webpage. Please review our calendar regularly to keep updated on concerts, meetings, and other events. This year, we will have one booster (HPAB) meeting per semester: Monday, September 11, 2017 and Monday, February 12, 2018. For more information regarding the HPAB, please refer to the "Performing Arts Boosters (HPAB)" tab on the right hand side. We thank you for your continued support.


- Steve Ernest (ernests@luhsd.net), Kim Shanker, and Juan Carreon