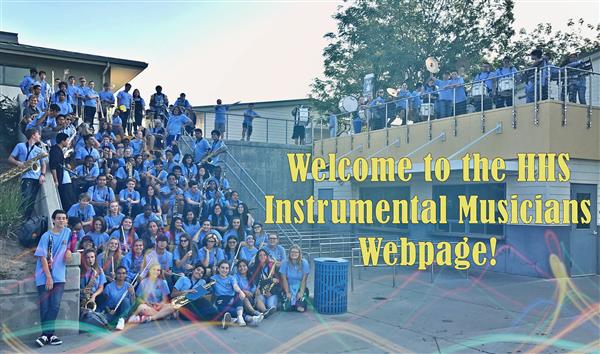 Dear Parents, Students, and Guests:

Welcome to our HHS Instrumental Music Ensembles webpage. Please review our calendar regularly to keep updated on concerts, meetings, and other events.


- Mr. Jeff Kumagai (kumagaij@luhsd.net)

- Mr. Juan Carreon(carreonj@luhsd.net)
Announcements!
Band Camp is here once more, and it is yet again mandatory for ALL students except for jazz rhythm and orchestra (given that you do not play a secondary instrument).

DATES:

Wednesday, September 4th

Thursday, September 5th

TIME: 3:15-5:30

WHAT:

Running sectionals with your section leader
Instrumental

Music Updates

and Opportunities!

Comedian Mike Marino will be performing at the El Campanil Theater in Antioch on October 5, 2019. He will donate $5 of every ticket sale to the Instrumental Music Program if you

enter the code HHB

when you purchase tickets HERE.

Instrumental Music Calendar *Click Here to Download*

Pep Band Survey!!! *click here*

---

---

Jazz Summer Study Opportunity!


Opportunity #1


The Jazzschool in Berkeley is again pleased to offer an amazing summer program for advanced high school jazz musicians: The Summer High School Intensive, directed by Dr. Michael Zilber. A great situation where students work with some of the very best Bay Area musicians in a one-to-one teacher-to-student ratio.

Auditions are coming up at the end of April, please contact me (Erik Jakobsen) if you are interested.

More info can be found here:

https://cjc.edu/community-music-school-youth/summer-youth-programs/high-school-intensive/

Videos of last year's intensive performance are available at:

https://www.youtube.com/watch?v=5uY9bvKOotE

Erik Jakobsen, Outreach coordinator and jazz educator


Preview attachment CCF_000442.pdf

Opportunity #2

The LafSMW(Layfayette Summer Music Jazz Workshop)2019. Info can be found at lafsmw.org. The workshop is from Sunday, July 14 to Friday, July 19. There are 200 students, 45 instructors and 24 combos. Please reserve your spot early and make sure to check all scholarship applications and deadlines.

---

Keep your eyes open for next year's selections.


Audition link for Jazz 2020-2021

Audition link for Wind Ensemble 2020-2021

---

Past Successes!

Folsom Jazz Festival Award Winners:

Jazz 1, 4th place trophy (signed by all the members of the Gordon Goodwin Big Phat Band. Good Stuff!)

Ways to be Consistently Updated:

Join our HHS Instrumental Musicans on Facebook!

The HHS Instrumental Musicians Facebook Page is open to current instrumental musicians (Concert Band, Symphonic Band, Wind Ensemble, Percussion, Orchestra, and Jazz Bands) in addition to friends, family, and alumni. *In order to protect our members and their privacy, our Facebook page is set under the "closed group" setting which requires new members to be approved before being added to the group. Only HPAB may post pictures and videos to this account.


Follow us on our HHS Bandstagram!

Our "HHS Bandstagram" features photos of our fellow musicians and reminders about upcoming events!

Subscribe to our Youtube Channel!

Our Youtube Channel includes videos of our performances; in order to protect our musicians and their privacy, videos are under private settings that requires a link to see the specific videos.
2019-2020 Ensemble Schedule

Period 1: Jazz Band 1 (Mr. Kumagai) Jazz Band 2 (Mr. Carreon)


Period 2: Wind Ensemble (Mr. Kumagai)


Period 3: Orchestra (Mr. Kumagai)


Period 4: Prep

Period 5: Varsity Percussion (Mr. Carreon)


Period 6: Symphonic Band (Mr. Kumagai) JV Percussion (Mr. Carreon)


Period 7:Concert Band (Mr. Kumagai)


Period 8: Jazz Band 3 (Mr. Kumagai)

The Stuart Music Fund subsidizes the cost of private music lessons, music camps and/or honor bands for young instrumental and vocal musicians. It is the goal of the fund to support and encourage musicianship among students attending Liberty Union High School District (LUHSD) schools or local junior high schools feeding into LUHSD. Grants made to students will pay half the cost of private music lessons for six months, or a portion of the cost of music camps or honor bands. For more information, please visit http://www.stuartmusicfund.com/