Instrumental Music Updates

Band Camp after school dates are as: 8/9, 8/10, 8/13, 8/14

Parent Packets are due by 8/9 from 3-8:30 in LG114

Instrumental Music Calendar

https://calendar.google.com/calendar/ical/hhsband7%40gmail.com/public/basic.ics

Cal Band Day call time at HHS, September 14th is 5 a.m. in the front of the school.

We will return about 6:30 and drop at the same location as we boarded.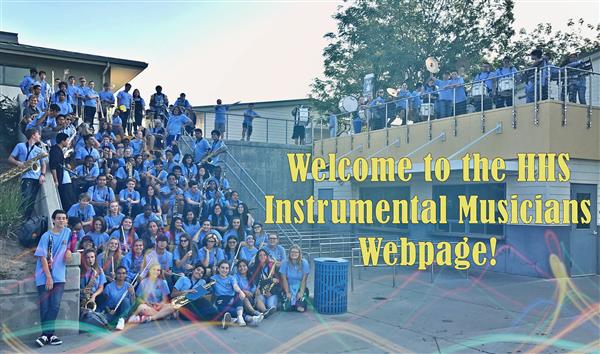 Additional Links:

Join our HHS Instrumental Musicians Group on Facebook!https://www.facebook.com/groups/HHS.InstrumentalMusicians/

The HHS Instrumental Musicians Facebook Page is open to current instrumental musicians (Concert Band, Symphonic Band, Wind Ensemble, Percussion, Orchestra, and Jazz Bands) in addition to friends, family, and alumni. *In order to protect our members and their privacy, our Facebook page is set under the "closed group" setting which requires new members to be approved before being added to the group. Only HPAB may post pictures and videos to this account.


Follow us on our Bandstagram (Instagram)!
https://www.instagram.com/hhsbandstagramm/

Our "HHS Bandstagram" features photos of our fellow musicians and reminders about upcoming events!

Subscribe to our Youtube Channel!

https://www.youtube.com/channel/UC8ntqeqC_gyog6_PQ-LEK4g

Our Youtube Channel includes videos of our performances; in order to protect our musicians and their privacy, videos are under private settings that requires a link to see the specific videos.
2018-2019 Ensemble Schedule

Period 1: Jazz Band 1 (Mr. Ernest) Jazz Band 2 (Mr. Carreon)


Period 2: Wind Ensemble (Mr. Ernest) & Varsity Percussion (Mr. Carreon)

Period 3: Orchestra (Mr. Ernest)


Period 4: Prep

Period 5: Concert Band (Mr. Ernest) & JV Percussion (Mr. Carreon)


Period 6: Symphonic Band (Mr. Ernest)


Period 7: Prep

Period 8: Jazz Band 3 (Mr. Ernest)

The Stuart Music Fund subsidizes the cost of private music lessons, music camps and/or honor bands for young instrumental and vocal musicians. It is the goal of the fund to support and encourage musicianship among students attending Liberty Union High School District (LUHSD) schools or local junior high schools feeding into LUHSD. Grants made to students will pay half the cost of private music lessons for six months, or a portion of the cost of music camps or honor bands. For more information, please visit http://www.stuartmusicfund.com/
Dear Parents, Students, and Guests:

Welcome to our HHS Instrumental Music Ensembles webpage. Please review our calendar regularly to keep updated on concerts, meetings, and other events.


- Steve Ernest (ernests@luhsd.net),- Juan Carreon(carreonj@luhsd.net)