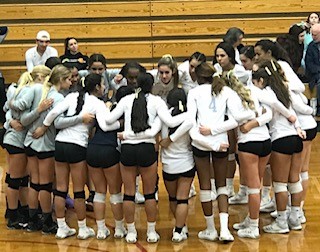 2020-21 Boys and Girls volleyball Conditioning begins - Monday Sept 21st Monday/Weds from 3:30-4:30 at the football stadium

Dress appropriately, workout shoes, yoga mat or beach towel if you like, water, your OWN volleyball indoor or outdoor is fine (let me know if you need one), a mask

To stay in compliance with District guidelines you MUST adhere to the below protocol. You must go to the HHS Athletics website at https://ca01001129.schoolwires.net/domain/1863

Then go ahead and get yourself registered, please visit Athletic Clearance.com Physical examinations for the 2020-2021 School Year must be done after June 1, 2020 to qualify. A physical examination dated prior to June 1, 2020 will not be accepted for the 2020-2021 School Year.

If needed contact Delta Spine and Sport 513-8883 or Steen Chiropractic 642-4389 for your sports physical

When completing physical examinations for athletics, please print the downloadable forms from the main athletics page, link on the right titled 'Athletic Clearance Physical Form', and take it with you to the exam.

Please complete the questionnaire and have a medical professional sign and stamp after performing the physical. Return the completed physical page to SLC B or the Athletic Director's Office ASAP. You may also upload the form to the athletic clearance website.

VERY IMPORTANT: MAKE SURE YOU PUT YOUR NAME AND STUDENT ID# AT THE TOP OF THE FORM.

To stay in compliance with District guidelines you MUST adhere to the below protocol and have you physical completed ahead of time!!

To clarify our training …

1. Pods of students of 10 to 12 may practice.

a. These pods must be the SAME students each day – Why? For contact tracing. If one becomes infected, then the other 9 to 11 must stay home for 14 days. If students are in multiple pods, then all students in close proximity to the infected student stays home.

b. A coach may coach multiple pods but they must be following the social distancing guidelines.

2. Students should NOT be gathering together before or after practice.

a. Why – Contact Tracing. If/when one becomes infected – anyone that student was in contact with will have to stay home for 14 days.

3. Towels, clothing, etc…should NOT be shared by any student. Towels/clothing should be washed after each workout.

4. There must be a physical distance between students and coaches of 4 to 6 ft.

5. Any athletic equipment – including balls, weight equipment, etc must not be shared among any students. Free weights with spotters may not happen as it does not adhere to the physical distance of 4 to 6ft.