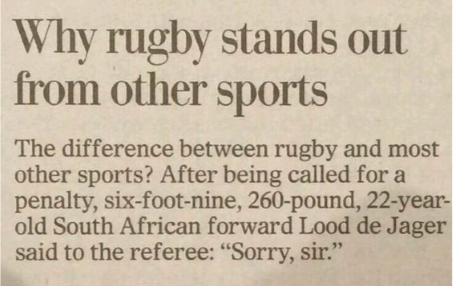 A brief breakdown of how rugby is played...
A rugby game consists of two halves and one ten-minute break between them. LHS plays 15s - that means 15 players on th epitch each with a specific position correlating to the player's jersey number. Halves range from ten minutes for players under ten-years-old, all the way to 40-minute halves for league-sanctioned games. Under19 (high school varsity) games can be played with 20-minute halves if both teams cannot field a full 15-person team and agree to the shortened halves. League-sanctioned games must be played with a minimum of two 20-minute halves. Regional and state tournaments are played with 40-minute halves.

Play is continuous; that means the game DOES NOT STOP and continues to be played through penalties and injuries. The play stops when the ball goes out of bounds, or when the referee blows the whistle. Additionally, the game ends when the play ends. That means, as long as the ball stays in bounds and the team with possession maintains control of the ball, the end-of-half or end-of-game whistle can blow and the game keeps going. The clock continues to run even during a game stoppage, but time is added at the end of the half to make up for it. Each team is only allowed seven substitutions per game, and players can re-enter the game if substituted out.

There is one referee on the pitch with two assistants. "Yes, sir" or "no, sir" or "yes, ma'am" or "no, ma'am" is the only acceptable form of communication with the referee and his/her assistants. The most egregious behavior on the pitch is to argue with the referee. This will result in removal from the pitch for two-minutes or being completely removed from the game. Use profane language on the pitch or behaving in a manner which violates the Code of Conduct will also result in immediate disciplinary action.

The ball can only be moved forward by running or kicking. Passing is allowed, but not in front of the ball handler. A try is scored when the ball is placed (or grounded) between your team's try lines. This is worth five points. Two additional points can be made if the ball is kicked between the uprights. However, the kicker must kick the ball from the position the ball was grounded when scoring the try.

For a more detailed breakdown of the game, including descriptions of positions, vocabulary, and a breakdown of how points are scored, please visit Princeton Athletic Club Rugby.

For more information about the club, please email us here.

Keep touch in our with club! Text @LHSRug to 81010 to get the latest infromation about our meetings, practice schedules, games, and activities.

For all girl's coach communication, please text @2020GirlsR to 81010, and for all boy's coach communication, please text @2020BoysR to 81010.