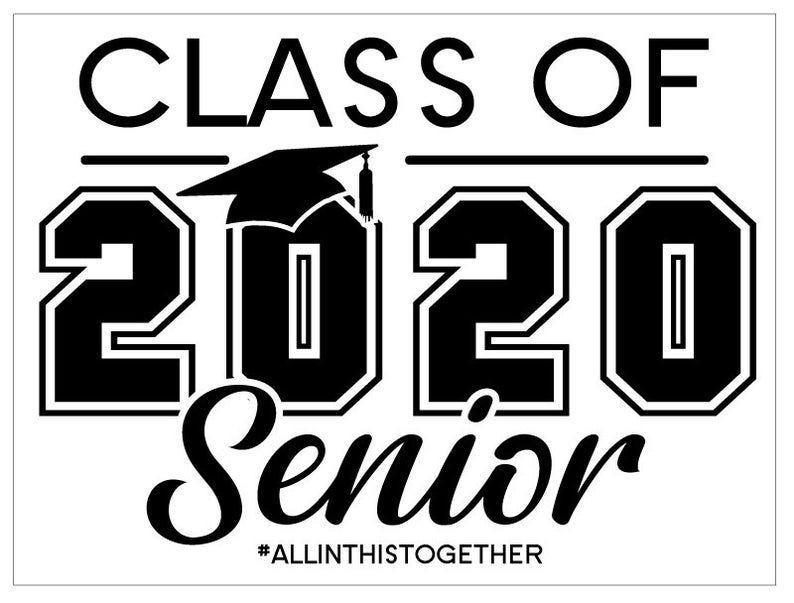 Freedom's commencement on campus from 4:00-8:00 in front of the B Building.

Seniors who wish to participate in this event will arrive at their respective times in Cap and Gown and enter into the student parking lot by the basin.
One vehicle per senior family will be allowed to enter. Please be aware that oversize vehicles may not be able to navigate the zig zag turns in the student parking lot.
Seniors should have a sign for the window with last name, first name and Student ID Number. A template for this sign is attached to this email.
At the designated area seniors will:

receive an envelope which includes their diploma, graduation program, honor seals, and name card and a special gift from Jeff Knepp from #fanatics.
exit the vehicle with their name card and walk to the designated staging area.
give the name card to the announcer, pick up a diploma jacket, and walk across the stage.

Each senior will be professionally photographed on the stage in front of the graduation backdrop.

Photographs will be available for purchase and information will be included in the student envelope.
Spectators in the vehicle may take pictures of the graduate so long as they do not impede the flow of traffic and do not exit their vehicle.

Once the student has left the stage, they will be picked up in front of the library and exit the parking lot.
Students who borrowed a cap and gown will exit via the A parking lot where they will exchange their cap and gown for their diploma envelope.

We ask that seniors follow the assigned time slot to maintain a steady flow of traffic:

4:00-5:00: A-G 5:00-6:00: H-M 6:00-7:00: N-S 7:00-8:00: T-Z

Freedom will also broadcast Pomp and Circumstance on FM Radio at 91.5 to enhance the ceremony for those that would like to listen to this traditional graduation song in their vehicle as their graduate crosses the stage. In addition, we will live stream the event on NFHS Network for those that cannot attend in person.

Graduation speeches will also be available to view through the school website at 3:00 on Thursday, June 11.

Again, we would like to congratulate all of our seniors and look forward to seeing you on Thursday. We encourage families to decorate their vehicle honoring their graduates. Any student who does not wish to participate may pick up their diploma on Friday, June 12, 2020 from 9:00am-12:00pm in the E Staff Lot next to the administration building.

Graduation Videos

The Virtual (recorded) Graduation Ceremony will be available at 3:00 p.m. PDT on June 11th:

https://www.youtube.com/watch?v=tH7xEeRwln0

The LIVE stream of Freedom's Graduation will begin at 4:00 p.m. PDT on June 11th:

https://www.nfhsnetwork.com/events/freedom-high-school-oakley-ca/evt77ecb3cfea

Share this bitly link with your family and friends https://bit.ly/3cLGjp8

Graduation - Thursday June 11 4-8pm in front of the B building

Senior Update from Principal Manke June 4, Click here to read her letter

We are excited to announce that LUHSD has been approved to have a drive thru commencement for the Class of 2020! On Thursday, June 11, we will hold Freedom's commencement on campus from 4:00-8:00 in front of the B Building.

FREE Senior T-shirt & Gift Pick Up -

You will receive a T-Shirt and special senior gift. Your size is guaranteed if you completed the survey, everyone else it's on a first come basis.

*Additional free merchandise to first comers, while supplies last*

Yearbook Distribution - Seniors, June 3 9:00-11:00

June 3-4 we will have yearbook distribution from the parking lot side of the library. This will be a drive-thru service. We ask that you write your first name, last name, and ID number on a paper that you can hold up in your car window. Once we have your yearbook, a staff member will place it in the trunk of your car. We appreciate that you wear a mask if you must roll your vehicle window down. The schedule for yearbook pick-up is as follows…

Cap and Gown and Sign Pick Up - Friday May 29th

If you still need to pick up your cap and gown or your lawn sign, you can come to our drive-thru service next to the Administration Building on Tuesdays from 9:00-12:00 and 1:00-3:00. If you will need to borrow a cap and gown please call Stefanie Limperis (925)625- 5900 x3002 or limperss@luhsd.net

Tuesday, June 2nd will be the last day Jostens will be distributing caps and gowns (borrowed and purchased). Jostens will be at Freedom from 2:30 p.m. to 3:30 p.m. in front of the Administration office. Last day to order a cap and gown will be Friday, May 29th, 2020. All orders are done through Jostens.com.

FYI……..Please order online not through the phone. The phones are very busy at Jostens and they most likely will not get through to anyone. ORDER ONLINE: JOSTENS.COM

Scholarship Night - Thursday MAY 21, 2020 after 3:00pm

Virtual Senior Prom - Friday MAY 22, 7-10 pm

This week, we are hosting a very special Virtual Senior Ball! On May 22 from 7:00-10:00pm, the Freedom staff will present a Virtual Senior Ball on the NFHS Network and Instagram Live. We believe this will be an amazing evening that will help our seniors celebrate the Class of 2020 from their own living rooms. We hope you will join us for this exclusive event. You will be able to access the event at NFHSnetwork.com and on Instagram @freedom.aps

City of Oakley Marquee - Images sent by Friday MAY 22

Additionally, the City of Oakley and Mayor Kevin Romick would like to recognize all the hard work of our seniors and honor the class of 2020. They would like to highlight individual seniors thon the Oakley Civic Center marquee through June 12 . The deadline to submit senior portraits is May 22. Please use this link to submit your senior portrait. www.ci.oakley.ca.us/classof2020

School Issued Materials Return - Seniors, Tuesday, May 26 - 9:00-12:00, 1:00-3:00

We will collect textbooks, novels, library books, calculators, laptops, and any other school issued materials next week. We will be using the E building parking lot by the MPR and it will be a drive-up service. Please place all of the items in a grocery bag labeled with your student's name in your trunk and when you pull up to the MPR a staff member will remove the bag. In an effort to maintain social distancing requirements and reduce your wait time, we will have a staggered drive-thru system. We ask that you keep your window rolled up or wear a mask when you pull up to the curb. If you have students that attend Freedom in multiple grade levels, you may return all of their materials at once.

Letter of Intent - Friday May 15th

Every year the Letter of Intent Assembly is a time for Freedom to honor and acknowledge the hard work of our graduates! We are excited to continue this tradition virtually on May 15th.

I know that our seniors were hoping for a senior ball but unfortunately, due to the before mentioned regulations, we will not be able to host a senior ball.